D.H. Russell & Grohmann Hunting & Outdoor, Kits, Fillet, Lock & Pocket
to order or more information, call 1-888-756-4837
Please keep in mind, this is a summary secondary site only. More detailed info on the regular site.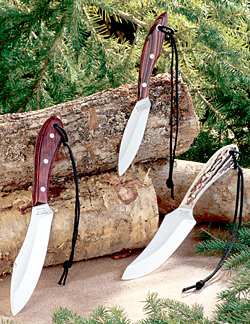 Often copied over the years, Grohmann is still the original and sole manufacturer of the D.H. Russell Belt products for over 50 years. Our quality Canadian outdoor items are proudly owned by private collectors and sports enthusiasts from around the world. People who own a Grohmann are connoisseurs of perfection and have come to expect superior handcrafted quality that can't be matched.

They are recognized around the world for their exceptional beauty, balance and quality. They have won more than 25 international honors including a display at New York's prestigious Museum of Modern Art.

Since introducing the highly successful D.H. Russell Belt line, Grohmann have added their own line designed and crafted to meet the rigorous demands faced by those who must make a living from or survive in the Canadian outdoors and abroad.

Each of our outdoor belt models comes with a custom designed, top grade, oil tanned leather sheath or case. Most have a nylon wrist thong for safety in handling. Most outdoor are available in Classic Rosewood, Linen Micarta, Xtra Resinwood, Natural Water Buffalo Horn, and Natural Staghorn handles.






R1S Rswd/SS $91.25

#2 Trout & Bird

R2S Rosewood/Stainless $85.25

Flat Grind Version ( Lg Camper )

#R1SF Rosewood/SS $91.25

#3 Boat, Canadian Army or Yachtsman Designs

1. R3SM Yachtsman style with marlin spike $114.25

2. R3S Boat with regular open mouth sheath $92.25

3. R3SA Army 'Jump' withoverlap sheath $97.50

Other various Flat Grinds Available

R101SF $92.00 Rosewood/Stainless

Turquoise & Semi-Precious Stone
Collector's Inlay

T2S Trout & Bird Design $274.75

T1S Original Design $286.75

T3S Boat Knife Design $308.50

T4S Survival Knife Design $345.00

T380S Lockblade $311.75

#108 Deer and Moose

R108S Rosewood/Stainless $119.00

R4S Rosewood/Stainless $119.00

#100 Large Skinner Model (Outdoor Dream)

R100S Rosewood/Stainless $105.50

R4SG $139.00 Rosewood/Stainless

#104 Mini Skinner

R104SF Rosewood/Stainless $88.75

R101S Rosewood/Stainless $92.00

R103S Rosewood/Stainless $115.75

R105S $173.50 Rosewood/Stainless

#UR3S $69.25 Boat -other styles available

Have fun at home assembling and finishing these precut pieces. Great projects for scout groups. Includes all parts, sandpaper, and the leather belt sheath.

Lightweight partial tang steel, rosewood handles

RF500S 5" $74.75

RF600S 6" $77.00

RF700S 7" $79.00

RF800S 8" $81.00

R380S $ 176.00 Drop-point Heavy Duty Lock & leather belt sheath

also available in other handle materials

Z390S $45.75 Straight Lock

Z390SW $49.75 Serrated Lock

R360S $73.75 Rswd/SS folder

H360S $127.50 Staghorn/SS folder

R350S $61.50 Rosewood 2-blade folder